Discover answers to the most common questions in this beginner laneway house guide
Having the ability to build a laneway house sets the bar for rental units because of their independent nature. As much as renting a basement to someone is profitable there is still the fact that they are below your feet and you are above their heads.
With the laneway suite, this will never be an issue again. Giving tenants and landlords peace of mind, knowing they're living in an independent and detached suite. This is an added benefit that heavily favours a laneway house over a basement apartment.
Laneway House Guide Overview
If you own a laneway property in Toronto then congratulations, you now know what it feels like to have won the lottery! The real estate lottery that is. For years, property owners in Toronto have found creative ways to add value to their homes. Whether they gave their master bathroom a facelift or completely remodelled their kitchen, there was never a lacking of options and there still isn't. However, it has always been a fair playing field…..until now.
If your property abuts a laneway, then welcome to euphoria and soak in the victory as laneway property owners are now able to build their very own laneway houses. This is a new investment opportunity that you never knew you needed.
---
What exactly is a laneway house?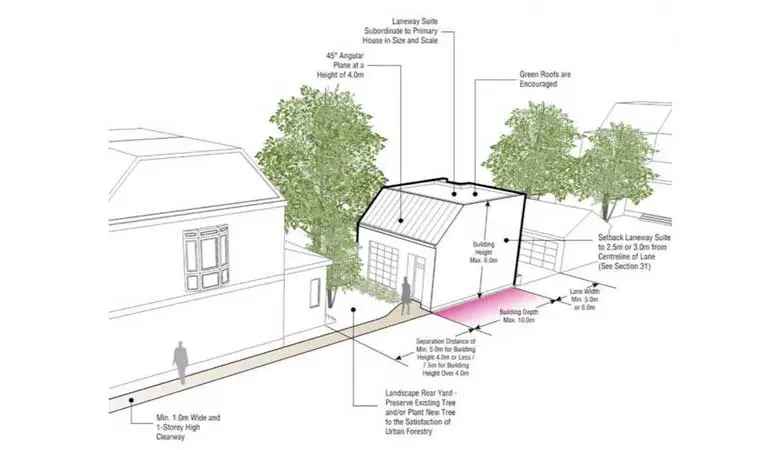 A "laneway suite" or "laneway house" is a self-contained dwelling situated at the rear of a residential lot, abutting a public laneway. Property owners with a laneway suite use the smaller house for personal, family use, or as a rental property for extra income. Often times, laneway homes are one to two stories, and all of your main services, such as mail delivery, garbage disposal all run from the main street opposed to the laneway itself. This might be the new upcoming trend in Toronto, but, this is nothing new, especially in Canada.
Look no further than Vancouver for the most recent hot bed of laneway suite properties. Toronto is reported to be the bigger older sibling stepping in to steal the spotlight as it is reported there will be anywhere from 100-300 laneway suites built over the next 1-2 years.
When did the City of Toronto pass the Laneway Suite by-laws?
In June of 2018, the Toronto City Council passed a series of Official Plan and By-law amendments permitting laneway houses within certain zones in the City. The amendments create as-of-right guidelines that allow laneway suites to be build under certain circumstances. Looking to make a change that requires a variance will certainly require a visit to the Committee of Adjustment is required for any variance. Update: the by-law now covers the entire city of Toronto.
What to know about Laneway House Permits
Property owners interested in building a laneway suite to increase the value need to be aware of whats involved. This includes certain permits you will need in order for this to be possible. Nothing comes free in life either, so expect there to be upfront costs involved in this project. Do your research, educate yourself about the process, what you are getting yourself involved in and strongly consider hiring a general contractor to take the lead and work hand-in-hand with you, not for you.
Requirements for eligibility of a Laneway House
You must apply for a building permit and conform with zoning and other by-laws
Enter into an Agreement with the city for both programs
Own a single family home abutting a private lane (for the Affordable Laneway Suites program only)
Why should you build a laneway house?
Laneway Houses Increase Property Value
This is the new and exciting way to increase your property value. Renovations to your main property have their pros and cons to them, but the laneway suite adds an exclusivity to it that the majority of homeowners will never have access to. You will be able to stand out in the crowd in a way that has never been possible before. This project will also give you the improved property value, without the hassle of the day to day interruptions a main property renovation.
Secondary Dwelling For Additional Family
Move in family members like elderly parents currently living with you in your home. Rid yourself of the crowded feeling and enjoy your space and privacy while living on the same property.
Privacy For tenants
Building a laneway house offers privacy for tenants and landlords. One of the most common "complaints" tenants and landlords alike have about renting a basement apartment is two fold. The additional noise that comes from this on both accounts is always the main concern as well as not feeling like you have any privacy. Being able to rent to a tenant by having a detached house, knowing that both parties have peace of mind and privacy is a very big leg up on the competition.
How much does it cost to build a laneway house?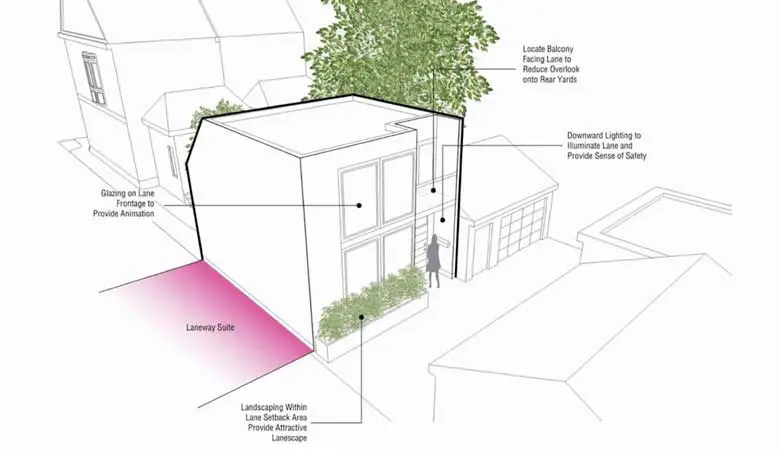 It's time to talk about the elephant in the room, cost! Everything conceptually is a great idea, but there is always a cost involved. Investing isn't for everyone and there are financial factors involved that might sway you if you are on the fence. The cost of building a laneway house will be vastly different from project to project depending on what is being built, where you are building and the time of year just to name a few. Let's discuss more in general terms to get an idea of what we are looking at.
Fees involved in building a laneway house
Building a laneway house, or any house for that matter, comes with mandatory development charges and fees. These charges can make the project cost-prohibitive for certain property owners. Below are some fees you should expect to incur.
Permits: Base cost $17/sq meter.

Legal Fees: Unknown (lawyer dependent)

Engineering/Architecture Fees: This heavily varies on the architects or engineers that you use. Our recommendation is to hire a Design & Build company that will walk through the entire process with you and will be bringing on their own architects and engineers to the project. Don't forget to discuss fees before hand.

Demolition: There will be a demolition charge to remove the old unit that exists. This likely will be an old garage.

Build: This is where the magic happens. Although the cost of a laneway suite will vary based on your project requirements, you can expect to pay between $300-$325/sf for a 1,000 square foot laneway house with mid-level finishes.

Finishes: Your end cost for this project can heavily depend on the finishes you chose. A kitchen for example can range from $10,000 to $50,000+. The purpose of the laneway suit should help you determine what level of quality you want your finishes to be.
Quick tip for deferring laneway suite development charges
The City of Toronto laneway suites program offers up to $50,000 as a forgivable loan to eligible property owners. The program defers development fees for twenty years following the construction of your laneway suite. The tie in to the loan is simple. You're obligated to rent the unit for a minimum of 15 years. During which time rent must never exceed what the city deems to be the average fair market price.
About the Toronto Laneway Suite Program
Please see the link referenced here for more information (https://www.toronto.ca/community-people/community-partners/affordable-housing-partners/laneway-suites-program/). To be eligible for either of these programs, you must first apply for a proper city building permit. Approval is based on whether or not your property and plans are in line with the local zoning laws.
Conclusion
Although this laneway house guide is a great starting point, building a laneway house is an exclusive opportunity that should be taken advantage of the right way and with the right company/contractor. Whether you decide to build a laneway house or not, make sure you do your research. Read and learn all that you can until you are comfortable to jump in with both feet. This is no small investment, but one that will pay off ten fold in the future.
Related Article: Toronto Laneway House FAQs
Related Page: Laneway House Toronto Design & Build Services